Hello hello hello! It's been a wee while since my last post (well, not in the grand scheme of things, but I'm used to writing twice a week) so it's very lovely to be back, and to have a revision break!
A pattern for dungarees was the only thing I was actually on the hunt for at the show a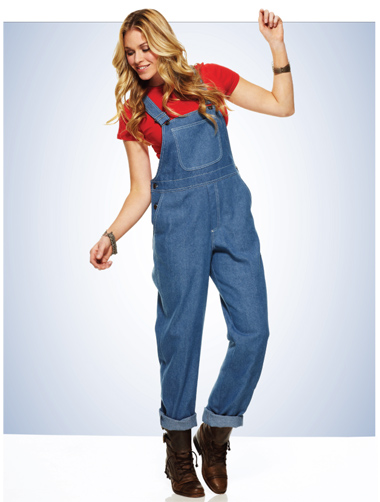 couple of weeks ago, so when I saw this pattern I zoomed straight towards it, and I think I clipped a few heels with my wheels (good rhyme) in my mad dash to reach it before anyone else! This was my first Kwik Sew pattern, and I must say, I am quite the fan of the white pattern paper they use! It was still the same sort of paper as the usual; very delicate and determined not to fold in the way that you want it to, but the brightness of the paper made it really easy to see the pattern markings.
The fabric I used was 'Washed Denim  Cotton Dress Fabric' from Minerva crafts in the colour 'Indigo Blue' – click right -> here <- to have a look! I would really, really recommend it, as the colour stayed magically when I washed it, it was a lovely thickness, and dealt well with any unpicking! The denim also comes in a range of colours, so I'm definitely planning on repurchasing it in the future.
The pattern instructions were really clear, and the diagrams were in colour, so super duper easy to understand. Something that you might not be able to tell from the front image on the pattern is just how much topstitching there is (double topstitching as well!), so I'd make sure that you have a pretty thread to use for that! Mine isn't super clear in the photos, but I must say it's rather snazzy-looking in real life and didn't actually use as much thread as I thought it might.
In the instructions, everything is meant to be cut out in denim, including the inside of the bib and underside of the straps. I didn't see that you were meant to cut out two bibs, so by the time I got to sewing those together, I was having a minor crisis in that I'd used up all of my fabric and didn't have enough denim left to cut another bib piece! So I delved into my remnants drawer and pulled out the fabric that I used for Dad's stag shirt that I'd made for him for Christmas and cut it out of that. 
Once I'd sewn that, I decided that I liked the look of using that as lining so much that I used it for the underside of my straps too! So in hindsight, I'd totally recommend ignoring the cutting instructions for that and use a contrasting fabric to line those bits with – it makes it so much more personal, gives you the option to have one strap undone to show it off  (see the picture on the right), and  is a great way to use up some of your larger scraps!
Fit wise, these were honestly brilliant. Looking at the measurements on the back, I made the size small and expected the legs to end up reaaaally long! I pre-empted it by making view B, which is the cropped-leg version, with the intention of them ending up around the right length for me. You sew up the legs before attaching the buckles to the straps, so you need to make sure that you're holding the dungarees as high as you want the waist, crotch and bib before you hem them. I'm not sure if that explains what I mean very well at all, but hopefully you can
figure it out! If you are particularly little (I'm 4 foot 11) it would probably be a good idea to take the 'using the cropped version as full length' approach – it worked out perfectly for me! The legs did end up super wide when I used a normal seam allowance though, so it's definitely worthwhile trying them on while you've pinned the leg seams to see if you need to take them in more before you sew a 1.5cm seam allowance!
Obviously, being disabled, I need to think about whether something will look good sitting down. And this really does! I positioned the buttons slightly further across than the instructions said so that it's a little more cinched in at the waist, and it gave a really nice effect without anything becoming too tight. So if you spend your day sitting in a wheelchair, this pattern will be great for you too!
I used some very cute buttons from House of Alistair (which I bought from John Lewis – and I have matching bias binding) on the side, so the pattern does include buttonholes, but no zips!
So here I will bid you farewell, and leave you with a link to buy the pattern from Minerva Crafts. If you're buying that denim (and you totally should) you might as well buy the pattern too… right?!
If you are going to make the dungarees, please do upload them to instagram and tag me @hobblinghandmades so that I can see!